«Spring 2017
Don't Let Just Anyone Have a Look at Your Legs!
XOJET is a leader in private jet travel that is personal, flexible, and on-demand. Headquartered in Brisbane, California, the company operates a fleet that includes Bombardier Challenger 300 and Cessna Citation X aircraft. Although XOJET has only been in business since 2006, this modern alternative to fractional ownership is definitely in demand.
According to Carlos Partida, Senior Maintenance Planner at XOJET, the company's fleet flies 40% more flight hours per aircraft per year than their closest Part 135 competitor. "Our fleet is smaller by comparison to our competitors," says Carlos. "Making sure the aircraft are available as much as possible is one of my top priorities." Needless to say, that makes downtime very important. And if you ask Carlos, no one manages downtime better than Duncan Aviation.
Work Completed Quickly
Since 2014, Carlos has been sending all of XOJET's Citation X oleo sets to Duncan Aviation for inspection. They are nearly always returned to service and headed back to XOJET within a week. Prior to using Duncan Aviation, Carlos was used to waiting months. "It takes Duncan Aviation a week, including shipping, to do something that previously took two months for completion."
Of course, Citation X oleos are not the only gear Duncan Aviation services for XOJET. Our Accessory shop regularly has a complete set of the fleet's Challenger 300 gear in the shop for 96-month inspections.
Switching to Duncan Aviation was not only a time saver, Carlos says. It has had a positive impact on XOJET's bottom line. "When our aircraft are not flying, they are not producing revenue."
Work Completed Well
Carlos also expresses his appreciation for the level of customer service he has received from everyone at Duncan Aviation. "They always deliver the highest in quality work at the best possible downtime savings, served up with a level of customer service that is first rate. Everyone on the Duncan Aviation team is so willing to accommodate all of my requirements. I can't speak highly enough about the customer service," he says.
Chris Fields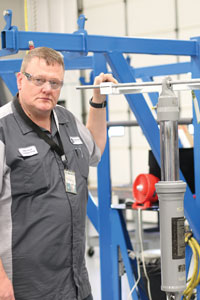 Chris Fields is a Duncan Aviation Master Technician working on the landing gear team since 2008. He knows a thing or two about landing gear and he knows a lot about the Challenger 300 and Citation X gear that come off of XOJET aircraft.
When XOJET sends their gear sets to Duncan Aviation, Chris often takes the lead, especially when it comes to the Citation X main gear oleo doc inspections.
"XOJET takes great care of their gear. They schedule inspections on time and everything is well-documented," says Chris. "We see several sets of oleos every year and typically will have them completed and returned within four days."