«Spring 2017
Trading Places
In 1997, Susan Masek was calling on aircraft parts brokers to locate parts in support of Duncan Aviation's in-house aircraft maintenance customers. Every day she picked up her phone and attempted to locate the units on her list.
While searching, Susan often called the same brokers again and again. Over time, she learned who she could rely on to find what she needed. Susan's first phone call was always to Meredith Daoud, who, at the time, worked for an aircraft parts broker in California.
"I knew Meredith had hundreds of customers, OEMs, FBOs, other MROs, and aircraft management companies. But when I called her, I always felt like I was the only one she was helping that day," says Susan. "She was the best at customer service and nearly always delivered what I needed."
Making Changes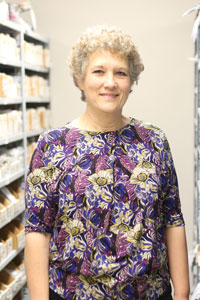 In 2005, Meredith and her husband Jerry stepped out on faith, moving to McKinney, Texas, and starting their own parts brokerage business—Trinity Aviation.
And because Susan wasn't the only customer who thought Meredith was exceptional at her job, when Trinity opened for business, many of Meredith's former customers became Trinity customers. "I work hard to build relationships," says Meredith. "I want to get to know clients beyond the transaction. People appreciate that and respond."
At about the same time, Susan was in the middle of her own transition at Duncan Aviation, leaving the maintenance side and joining Duncan Aviation's Parts & Rotables Sales team. Instead of purchasing parts, it was now her responsibility to locate and sell aircraft parts, instruments, and components. Guess who called?
Meredith knew from the beginning that she would be relying heavily on Duncan Aviation to help her fulfill the needs of Trinity Aviation's customers. On one of her first calls to Duncan Aviation, by chance, she was connected to a new Parts Sales Rep, and an old friend.
Thirteen years later, the relationship between Trinity Aviation and Duncan Aviation is a strong one, connected by a professional friendship between Meredith and Susan.
Susan Masek
"When we think of Duncan Aviation, we think of Susan. For us, she is Duncan Aviation."
–Meredith Daoud, Trinity Aviation
When Meredith Daoud has a customer in search of aircraft parts, her first phone call is to Susan Masek. "She is extremely knowledgeable," Meredith says. "I trust all the information she provides and if she doesn't have the answers right away, she'll research it and call us back. Her customer service is first-rate."