«Fall 2018
Scholarships And Internships Encourage Next Generation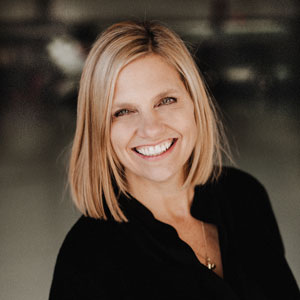 More than 20 years ago, the Duncan Family Trust set aside funding for the Karen K. Duncan scholarship. This program awarded scholarships to the children of Duncan Aviation team members for use toward a post-secondary education. It was important to not only fund the scholarship program but also have objective sets of eyes evaluating the applications and essays.
"We are a family-owned company, and our employees are our family," says Connie Duncan, member of the Duncan Aviation Board of Directors. "That's why we believe an investment in our employees' children is so important. The cost of higher education is a real problem. If we can help our families offset the cost of a good education, then it is our duty to be there for them."
As many as 20 scholarships are awarded each year to dependents of full-time Duncan Aviation employees. Students receive up to $4,000 for their college education, which is $1000 per semester for up to two years.
In 2000, when Peter (Pete) Ginocchio retired after 40 years in aviation, he joined Duncan Aviation's CAB (Customer Advisory Board). Toward the end of his term, Pete was asked if he'd be willing to help evaluate those scholarship applications. He joined two other long-time Duncan Aviation customers on the scholarship board: John Gibson and Gary Hay.
The scholarship evaluation committee selects students based on their academic achievement, leadership qualities, citizenship, career goals, and extra-curricular activities. They must also submit an essay, and Pete is a member of the team that reads and evaluates the content.
"I get such a lift and an improved outlook on life from reading the kids' application essays," says Pete. "My faith in the future has been restored by reading them. It's heartbreaking that we can't award scholarships to every applicant because their stories are all so compelling."
In the 20 years that the Karen K. Duncan scholarship has been offered, 302 students have been awarded more than $1,712,000.
Introducing Aviation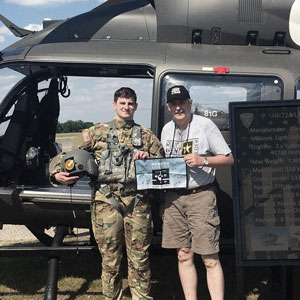 One of the Karen K. Duncan scholarship recipients, Joshua Mertens, is the son of Mike Mertens, Manager of Regulatory Compliance. Although Mike had tried in vain for years to get Joshua interested in aviation, that all changed when Duncan Aviation Senior Captain Harry Barr took Joshua up on a test flight in an Eagle 3.
"From that moment on, I was hooked on flying and determined to become a pilot," says Joshua. "I wasn't quite sure how aviation would fit into my future, but I was ready to find out more about it."
As it turned out, flying plays a fairly significant role. Joshua worked as an intern at Duncan Aviation while he was in school, and that introduced him to the maintenance side of aviation. Joshua credits his supervisor, Allen Sward, with pointing out the interesting, intriguing parts of maintenance.
"Every single day, there was something new to learn or be challenged by," says Joshua.
He's now 23 years old, and he's on leave from his full-time Technician Helper job at Duncan Aviation to attend the United States Army Flight School in Fort Rucker, Alabama.
"I'm on active assignment with the Nebraska Army National Guard at Flight School," says Joshua. "I just completed the primary phase of flying and am now in basic instruments. My short-term goal is to finish flight school, get my commercial rotor wing rating, and build flight hours."
Joshua's long-term goals include finishing his A&P certification and getting his fixed-wing ratings. Although he didn't end up finishing the degree he had originally planned upon heading off to college, he knows he's headed in the right direction now and credits his experiences at Duncan Aviation with helping solidify that vision.
Joshua's grandfather Jerald Mertens was a fighter pilot in the US Air Force. After serving, he flew as a commercial pilot for many years, and then he spent the remainder of his career with the FAA. His father Mike is a single-engine VFR pilot and has 600 hours of flying twin-engine turbo-powered aircraft from the famine relief he flew in Mozambique, Africa. Joshua will be the third generation of Mertens' men to get his wings.
"Duncan Aviation not only introduced me to flying, it has now given me a leave of absence to go to flight school," says Joshua. "There is simply nothing like flying. It's awesome! I've jumped out of airplanes, but there is nothing like going from the ground into the air."