«Fall 2018
Mission Statement Investing
Duncan Aviation will be the leading provider of business aviation products and services. We will employ and develop the most knowledgeable and trusted individuals in the industry. We will be highly profitable and reinvest these profits in team members, equipment, and facilities to extend our leading position.
The Duncan Aviation Mission Statement is more than just words. It is the standard by which the company operates and all team members are proud to stand behind. It impacts our culture, influences strategic decisions, and directs how and where we invest in ourselves.
Over the last 20 years, Duncan Aviation has directed nearly $280 million back into the company, re-investing in new facilities, necessary equipment, professional training, and leadership development. Company Chairman Todd Duncan says these investments are what set us apart from competitors. "We are the largest privately held MRO in the world because we invest in ourselves for the long-term. There are other operations of similar size that are held by private equity firms. But they are not investing in themselves and certainly not planning long-term."
Duncan Aviation President Aaron Hilkemann agrees, saying these investments are necessary in order to maintain the culture of the company. "There wouldn't be opportunities for our team members if we didn't. We are set apart from our competitors because we are focused on our team members and providing career opportunities for them."
Twenty years ago, company leadership didn't invest in the same way they do now. "Our investments were small when we were only one location in Lincoln, Nebraska," says Todd. "When we invested in our Michigan expansion in 1997, it was game-changing. In an instant, the Battle Creek facility provided us a second location and more than 300 new Duncan Aviation team members."
That investment was about more than just adding a location. It was a major investment in the Duncan Aviation brand. "Customers continually commented on how coming to Duncan Aviation for their work made them feel. The culture was inclusive, competent, responsive, and unique. We believed we could replicate the Duncan Aviation customer experience elsewhere. We have successfully done just that."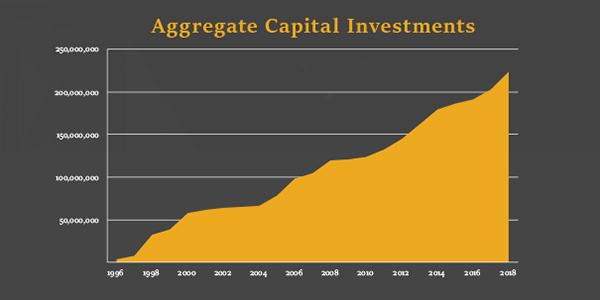 For several years, technicians were shuttled back and forth to work and learn from each other and document best practices.
Those early investments are now paying dividends. "We are able to keep up with our customers' demands and needs today because we choose to reinvest in ourselves to make changes as their needs change," Todd says. "Over the last two decades, customers have changed as much as we have. They are more sophisticated and professional with increased demands on their budgets and downtimes. We really listen to what they have to say and invest accordingly."
The 45,000-square-foot paint facility (2011) and 175,000- square-foot maintenance hangar (2014) expansions in Lincoln came about because customers' needs dictated that we grow.
Still, the biggest challenge for the company remains having enough hangar space. Even with the capital investment in Lincoln four years ago, the hangars are nearing capacity.
In response to customer requests for nose-to-tail Duncan Aviation services in the Western US, construction is underway on a 275,000-square-foot maintenance, modifications, and paint complex at our Provo, Utah, location. The first hangar will open in January 2019 with the paint facility completion anticipated for March. A second hangar will be done by June, and full interior and refurbishment backshops and administration offices will open in early 2020.
"There is a lot of excitement in Provo," says Aaron. "Customers are excited we are building there. Team members are excited we are growing."
There are currently 70 team members in Provo with plans to grow to more than 115 by the time the first hangar is completed. A number of experienced team members are looking forward to relocating to Provo. They are fine examples of great leadership and experience moving to duplicate the same Duncan Aviation culture for our West Coast customers.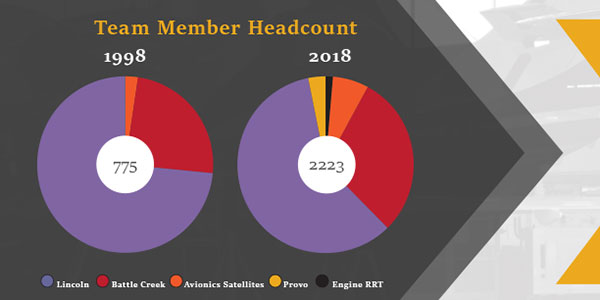 Duncan Aviation also makes capital investments to expand capabilities. The 20,000 lb. thrust-class turbofan engine test cell is a great example. The test cell has completed necessary correlation runs and is supporting all Honeywell TFE731 engines scheduled for CZI inspections. The thrust-class specification allows for future growth to support all current and projected turbine engine platforms that power business aircraft. The cell has the latest Atec, Inc. ADAQ Data Acquisition and Control System. It is a fully scalable data system that can be customized to multiple engine platforms and provides intermediate-level, depot-level, production-level, and development-level engine testing capability. From computer hardware, displays, and touchscreens to the data acquisition and PLC control hardware, it runs on the latest technology.
Great Investments Don't Always Have To Be Large
Not all investments need to be a home run in order to have an impact. Smaller, strategic investments or reinvestments are just as valuable. Here are some examples of smaller investment opportunities with large, rippling positive effects.
The 2014 remodel of the Duncan Aviation FBO lobby and customer offices in Kalamazoo, which improved the customer service experience
Significant investment in landing gear rotable parts and components inventory, which expands our service capabilities to customers around the world
An increase in our available aircraft engine rental pool. Our recent growth in engine capabilities and authorizations has increased customer demand for engine services, requiring the purchase of additional engines for customer use during maintenance events
A 2018 update and expansion of our interior design center in Lincoln. This remodel features a large, interactive showroom and conference space lined with windows and new LED lights. This will enhance the customer experience during the specification process
Great Investments Are Not Always Planned
Sometimes, investments just happen to fall in your lap and are great opportunities. We recently expanded operations in Battle Creek by taking advantage of two vacated facilities, adding 20% more hangar space. "These are investments we did not plan for but couldn't pass up," says Aaron. We have made good use of the larger hangar by relocating our largest fractional maintenance and modifications customer there. The smaller hangar is in use for maintenance events on smaller airframes. "We are careful in our planning so we can maintain the flexibility necessary to take advantage of these unique investment opportunities."
Our Team Is Always A Great Investment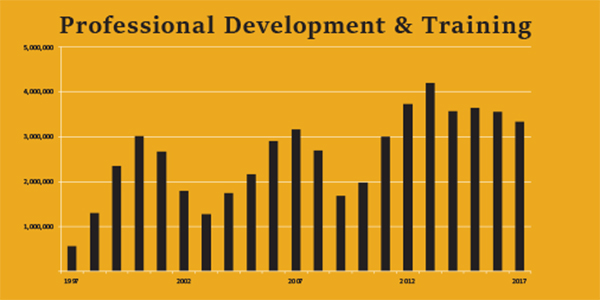 Duncan Aviation is so much more than great facilities, though. We wouldn't be the company we are today without dedicated, knowledgeable, and talented team members. We don't want to just have jobs for people. We want to provide viable career paths where individuals will continue to grow their knowledge and skills, put down roots in our communities, and raise their families. We are continually making huge investments in our greatest asset, our own people.
Professional development and training is a critical component of that investment, averaging more than $3 million dollars annually. "We want to achieve the highest level of technical expertise in the industry," says Felicia Nichelson, Professional Development, Training, and Safety Manager. "It increases our quality of work and produces higher production standards, resulting in the retention of customers. By creating a culture and expectation of continuous learning, we are developing engaged and motivated team members and effective and self-aware leadership at all levels within the company. All of these things positively contribute to behavior that improves the performance of Duncan Aviation."
Just like everyone else in the aviation industry, Duncan Aviation is concerned about the shortage of trained aircraft technicians that is forecast. We are aggressively recruiting individuals who are leaving active-duty military, or have an interest in a career in aviation but don't yet have the certification. We pair them with skilled technicians on the floor. Over the course of several months, with hands-on training and oversight, they are able to demonstrate their efficiencies. We then send them to an intense training course to continue their studies and pass a test to get their A&P. This helps with the labor shortage by giving them a different avenue to be successful.
We invest in our team members in other ways as well.
Our emphasis on having a healthy workforce is extended to our team members' families by providing on-site family health centers in Battle Creek and Lincoln. A third center will be opened when the Provo expansion is complete and the team grows. The centers are staffed by an on-site Physician Assistant and Nurse Practitioner, they see Duncan Aviation team members and their families for scheduled appointments, ongoing health consultations, and drop-in care.
Not only is an on-site health center a great perk for team members, it is also a solid business strategy for the company. Healthier team members will avoid large medical costs that affect both the company and other team members. Duncan Aviation Family Health is focused on wellness and prevention. If we can help our team members make healthier decisions and create healthy habits, we know it can have a dramatic and positive impact on their lives.
This investment in wellness extends beyond medical care to exercise and access to fitness facilities. Both Battle Creek and Lincoln locations have on-site fitness rooms with professional equipment and scheduled classes. It is one of the biggest employee benefits available to all team members and their spouses. "At Duncan Aviation, we see our team members as our biggest asset," says Marika Brack, Benefits & Wellness Team Lead. "We know that a healthy workforce will be more happy and productive. It's a win/win.
Tuition Reimbursement and Pilot Training
Over the past 5 years Duncan Aviation has reimbursed $280,000 of tuition to team members. This equals 500 completed classes, including graduate, private pilot license, undergraduate classes, and instrument ratings.
Additional Growth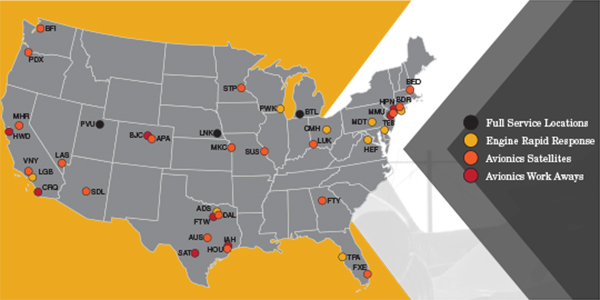 Another consistent investment for Duncan Aviation is the expansion of its regional avionics and engine teams to provide customers with AOG responses and regular service closer to where they typically travel. Customer markets and requests are constantly evaluated, and we typically open new offices every few years.
Satellite Avionics Network
In 1998, there were 47 technicians in 15 satellite avionics shops across the country. Today there are 147 technicians at 28 of the busiest business airports in the United States. They provide more service capabilities than just avionics support, like battery overhaul and nondestructive testing. "We are always evaluating and adding capabilities at our locations as our customers request them," says Matt Nelson, Manager Satellite Avionics. "We listen and build a business case around customer interest."
Engine Rapid Response
The first Engine Rapid Response office was opened in Dallas, Texas, in 1999, providing localized AOG and line services to the area. There are now 16 launch locations with a vision for even more growth in the near future. "We have more than 35 engine technicians out in the field dedicated to 24/7 AOG support. That's a huge engine response force and more than any other provider," says James Prater, Manager Turbine Engine Services. "Our mission is to be there for our customers when and where they need us most."