«Fall 2018
Early Introductions Can Make Awesome Careers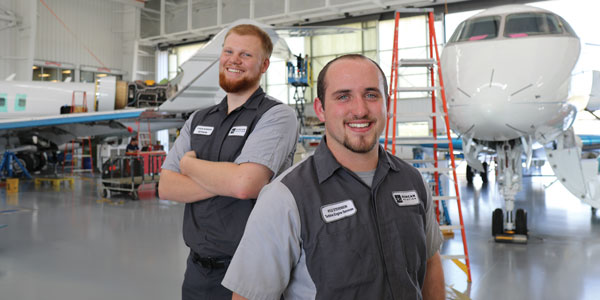 It's well-known throughout the aviation industry that as experienced technicians are retiring, looming shortages of qualified replacements are forecast. Duncan Aviation is working hard to ensure we keep all of our facilities staffed with the most qualified technicians in the industry. One of our resources has been strategic recruiting from community colleges and universities that offer avionics and aircraft maintenance certificates and degrees.
As students at Utah State University in the Aircraft Maintenance Management program, Tyson Bowers and Kyle Stevenson joined SAMP (Society of Aviation Maintenance Professionals). One of the tours the group took was to the Duncan Aviation facility in Provo, Utah.
Exposure Early On
Both Tyson and Kyle had heard of Duncan Aviation and knew the difference between careers in business aviation and commercial aviation. As they toured various facilities in the area, they asked questions about what shifts they could expect to work, what opportunities for professional growth existed, and where they'd be located. Based on his impression of Duncan Aviation during that tour, Tyson tucked the memory away and hoped to have an opportunity to work there someday.
Tyson was interested in a career that allowed him as much hands-on experience as possible. He also felt that working the night shift while starting a family was less than ideal, so he was looking for the opportunity to work daytime hours.
On family vacations as a child, Kyle flew up-front in his grandfather's Piper Seneca V. In college, Kyle worked as an intern at Jackson Jet Center in Boise, Idaho, where his grandfather's plane is based. For as long as he can remember, Kyle has been fascinated by machines—anything with an engine—and aviation engines definitely intrigued him.
"Our professors told us that we were getting our degrees at just the right time because Duncan Aviation was expanding its facility in Provo and would be hiring," says Kyle. "It was important to me to work where I'm valued as an employee and not just a number in the budget."
Internship Provides Experience
After working an internship as an Airframe Mechanic at Duncan Aviation in the summer of 2017, Tyson was hired to work full-time as an Airframe Tech the following November. He was still a student at that time, and he had a month of classes to finish before he graduated with his Bachelor's degree. Tyson now works on the AOG team out of Provo for Lead Technician Jacob Keel, whom he says is a great teacher and a really great leader.
Kyle finished his Associate of Applied Science degree in Aircraft Maintenance and went on to earn a Bachelor of Science in Aviation Technology, Maintenance Management. In June 2017, he started working as an Engine Line Tech in Lincoln, Nebraska.
"When I was hired, I tried to come with an open mind, knowing that I was going to learn more in my first year here than I had in any other so far," says Kyle. "Also, working at Duncan Aviation's largest facility, I knew I was going to get to see just about everything pretty quickly. So, I've really liked the number of different aircraft and engines that I've been able to learn about and work on."
Tyson echoes those sentiments and feels fortunate to get the hands-on experience that's so vital to learning about aircraft maintenance.
"I'm not doing the same thing over and over; I get to do a little bit of everything. I feel like I'm seeing and learning the entire puzzle instead of just focusing on one little piece of it," says Tyson. "I love the challenge of actually getting to troubleshoot issues with the various aircraft we see. And it's a pretty satisfying experience to look at the problem, figure out what's wrong, resolve the issue, and watch that plane fly away!"
Neither man would hesitate to recommend Duncan Aviation to colleagues in the aviation industry. In his first year at Duncan Aviation, Tyson has gone on more than 20 AOG trips, and he's visited other Duncan Aviation facilities.
"Duncan Aviation has lived up to my expectations," says Tyson. "I really enjoy working here and am super appreciative of my position. Working AOG has been a phenomenal way to learn, and it's cool to get to learn about every airframe."