«Fall 2023
Classy, Flashy, & Completely Customized

After purchasing a CL-604, the new owner brought the aircraft to Duncan Aviation in Battle Creek, Michigan, for extensive upgrades to multiple avionics systems, an eye-catching interior, and striking exterior paint. In April, he took possession of what is in essence an almost entirely new aircraft that makes a bold statement: It's classy, flashy, and completely customized.
"We are excited to showcase our Fusion-equipped 604 and couldn't be more pleased with the outcome," says Air Partner's President Vik Saini. "We are also just as grateful for the partnership we have with our friends at Duncan Aviation."
Facing obsolescence issues with multiple avionics systems, the new owner opted for safety, upgrading certain systems and installing new for others. In addition to the new avionics, Mr. Saini, who manages the aircraft for the new owner, reached out to Duncan Aviation Completions and Modifications Sales Rep Tiffany Buschini and Lead Designer Heather Pridemore, both of whom he'd worked with in the past. He sought their expertise on the exterior paint scheme and the extensive interior work.
"Over the years, we've come to trust Duncan Aviation with our most important maintenance or refurbishment projects, and our experience with this aircraft further built upon that trust and confidence," says Mr. Saini. "Although this particular workscope was our most complex and largest undertaking to date, it didn't feel as such. This was in large part because of the team and expertise Duncan Aviation was able to provide. In particular, the initial quote and workscope was well developed by Tiffany Buschini and Justin Vena, the design vision of our client was well executed by Heather Pridemore, and the entire project was well managed by Branden Hunt—all of whom made for a fun and exciting project that was completed on time and with few surprises."
Tiffany was just as pleased to work with Mr. Saini and his team again. "We've worked together on other aircraft projects and built a strong foundation of trust. It was a pleasure to get to work on a project of this magnitude with all of them and to see how happy they were with the final product."
Despite having their own MRO (Maintenance, Repair, Overhaul), Air Partners has brought numerous aircraft to Duncan Aviation over the years for avionics upgrades and interior modifications. "We've painted and completed interiors on three of their aircraft in the past, and we'll work on an LJ45 for them next year. I value the trust they have in me and in Duncan Aviation, and it was especially motivating that the new owner was open to trying so many new looks and techniques," says Heather.
Classy, Flashy Details
"The owner wanted to make a bold statement. His company's logo is gray and black; he wanted those colors featured in the paint scheme, which is black on the belly and tail with a splash of gray across the sides. We also carried those colors throughout the interior," says Heather. "There are so many unique details that we incorporated throughout the interior, and the logo added a personal touch."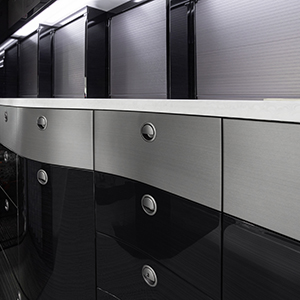 Among the many unique details are gloss-finished, Black Ebony veneer and a woven vinyl flooring in the entry, galley, and lav. The galley veneer was installed horizontally, with the grain running parallel to the stripes in the vinyl flooring. The galley doors are refinished in a metallic vinyl wrap, with the customer's logo airbrushed on one of the upper doors by the Cabinet Team. The PSUs are covered with a black carbon fiber-print ultraleather, with contrasting gunmetal gray plating, which is as eye-catching as it is unique.
Heather's design for the upholstery lends visual interest and variety to the cabin while preserving an overall theme. Two-tone club seats provide contrast to the charcoal gray divan, both of which incorporated quilted panels and are trimmed with metallic leather piping. To further customize the bespoke interior, Heather had throw blankets embroidered with the owner's logo.
"The new carpet in the cabin is the feature I'm most excited about," says Heather. "It was a joint effort between the owner and I, and it was so much fun coming up with the design. He picked the pattern, and I put together a combination of colors and patterns to fit the style he was looking for. We worked through many design ideas together—seat designs, for instance—but he absolutely loved the carpet!"
Illuminating the cabin are the energy-efficient, long-lasting Prizm multicolor LEDs that the owner can adjust to suit his mood.
Avionics Upgrades For Safety And Functionality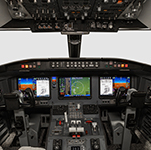 No area of the aircraft remained untouched. We installed Collins Aerospace Pro Line Fusion in the flight deck, featuring full-color touchscreen displays in place of the old CRT displays. Retrofitting the flight deck with SVS (Synthetic Vision System), pilots can now see uneven terrain on approaches at night, and with WAAS LPV (Wide-Area Augmentation System-Localizer Performance with Vertical guidance), the pilots will benefit from enhanced GPS signals during the entire flight, including to within 200 feet of the ground during landing.
The owner also upgraded to FANS (Future Air Navigation Systems), a datalink technology that allows pilots and air traffic controllers to more easily communicate with one another using a common language. Although currently mandated only in certain North Atlantic Tracks where radar doesn't reach and radio coverage can be erratic, the CL-604 is now ready for any future mandates.
The new Gogo AVANCE L5 will give a dramatic boost to in-flight connectivity for pilots and passengers alike.
Working with Senior Avionics Sales Rep Justin Vena, the cabin was outfitted with a new Collins Venue CMS (Cabin Management System) to replace the obsolete system. The upgrade included a 10.6" Galley monitor, and in the cabin, there are now 10 TC 6000 touchscreen controls, installed at most switch locations; two 24-inch LCD screens installed on the bulkheads; the new HD Airshow, featuring Moving Maps; two HDMI (High-Definition Multimedia Interface) ports; and a channel of Bluetooth audio streaming. Audio in the cabin was also enhanced with the installation of new Alto Aviation speakers, perfect for airborne audiophiles.
"We reached out to Collins Aerospace," says Justin, "and we were able to take advantage of a combined incentive program to get a discount on the Venue and Fusion systems. Owners replacing obsolete systems may feel the pinch, but at Duncan Aviation, we work with our vendors to get the best prices possible for our customers."
The Customer Response
When the aircraft delivered, the team was on-hand to witness the customer's reaction. There's always a little nervous excitement mingled with pride as the team looks on. They needn't have worried. The customer was ecstatic.