«Fall 2023
Component Services: Increasing Capabilities

Duncan Aviation is in the middle of two hangar and facility expansions at its MRO locations in Battle Creek, Michigan, and Lincoln, Nebraska, adding 210,000 square feet of hangar, office, backshop, and storage space. Both projects are on track for completion in the first quarter of 2024. Shortly after the fanfare of welcoming the first aircraft through the hangar doors, additional capability and capacity changes will occur. Although it isn't met with the same celebration, it is no less critical to Duncan Aviation and to our customers.
Each newly added maintenance hangar directly impacts the growth of Duncan Aviation's Component Services throughout the enterprise. The demand for in-house accessory services and parts sales multiplies as the number of aircraft on-site for maintenance increases. The more aircraft in the hangars, the more tires, batteries, landing gear, avionics, and parts are needed to support them.
In the last three years, Duncan Aviation has invested $47.6 million in the Component Services Division and more than $1 million in team member training, which includes PRS (Parts & Rotables Sales) and Component Repair & Overhaul.
Accessories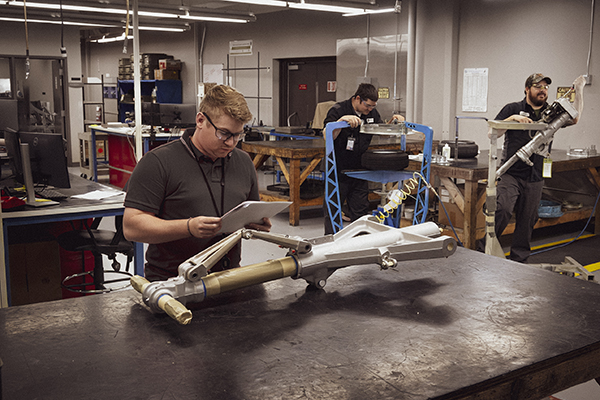 Duncan Aviation has invested heavily in accessory services, understanding the full impact these units have on an aircraft's operation. Each of our three full-service MROs offers onsite battery, calibration, and landing gear services and authorizations from multiple component and equipment manufacturers.
Each battery shop has test sets, battery chargers, and capacity gauges available to perform checks, testing, and maintenance for every aircraft battery in service on today's business aircraft, along with dedicated rooms for lead-acid and NiCad battery services.
All calibration services are traceable to the SI (International System of Units) through NIST (National Institute of Standards and Technology), using NIST traceable standards.
Landing gear teams overhaul, inspect, and repair gear from several models of aircraft. The Lincoln gear shop has the most significant footprint and works larger gear sets like those from Embraer, GL BD-700, CL-300, and CL-600 aircraft. Smaller gear like Beechjet, Cessna, and LJ oleos are sent to Battle Creek and Provo. They all have new wheel- and tire-changing machines that handle up to G7500 wheels to perform changes more efficiently and safely.
Avionics & Instruments
Technological advancements inside aircraft are changing at a fantastic rate, causing current avionics units to become legacy faster, and profoundly affecting the demand for quality sales and service of components no longer in production.
Many industry OEMs are divesting the capabilities of legacy platforms, and turning to Duncan Aviation Component Services to take over exclusive support for many lines of avionic units. With these new authorizations, we manage the repair and exchange capabilities, including quotes, AOG events, technical support, warranty claims, and maintenance contracts. It is seamless for those customers.
"It all comes down to our relationships with our OEM partners," says Tim Fidler, Business Development Manager-Components. "OEMs trust us to do what we say we'll do to care for our mutual customers."
Parts Inventory Sales
The investment into these new OEM programs and licensing agreements has added roughly 3,000 individual part numbers to our component service capabilities, significantly increased the inventory offerings for parts sales and exchanges, and introduced new customers to Duncan Aviation's Component Services. With each new program, we do thorough research to determine which parts are needed to support customer needs and aggressively build and add to all of our inventory programs.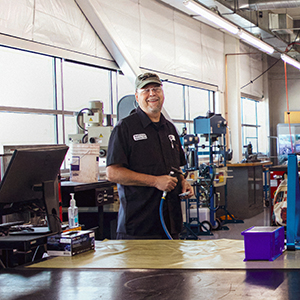 "Our inventory programs continue to evolve to meet the needs of the market," says Chris Gress, Business Development Manager-PRS. "We are constantly evaluating our inventory programs to maintain the right mix, providing our customers with what they want and need."
Duncan Aviation's PRS has three unique inventory programs that provide immediate access to approximately $500 million in Duncan Aviation and customer-owned inventory.
Customer Parts Consignment frees up valuable space in our customers' hangars and warehouses while earning money. PRS manages the entire process from receiving the inventory to the final sale, all while customers maintain ownership.
Managed Rotable and Virtual Inventory programs give clients the ability to select components from their rotable inventory to be shipped and warehoused at Duncan Aviation. All daily operations such as customer service, sales, marketing, shipping, exchange, repair, insurance, and billing, are managed by PRS while clients maintain ownership and make all pricing and stock level decisions.
The inventory programs are open to all aircraft operators, parts brokers, and manufacturers.
Team Building
"We have the strongest grouping of component technicians and parts sales professionals in the industry," says Mark Cote, VP-Component Services & Satellites. "Their capabilities and industry reach are unmatched."
Component technicians are actively cross-trained to remain flexible and support other areas when work demands it. Through an alignment with a local community college, new technicians are trained to develop the skills most in demand. Every day, 140 Duncan Aviation component technicians strive to support our customers at the highest level.
The PRS is a team of 31 parts sales professionals who work around the clock and across all time zones answering phones and responding to emails to fulfill parts sales, exchanges, and AOG parts support with same-day and international shipping.
Duncan Aviation customers are well-informed and demand faster service while still requiring quality. "When it comes to component repair and parts sales, we offer the best of both worlds," says Keith Schell, Manager-Component Repair/PRS. "Our teams are intertwined and work together to provide the services our customers need most."
We are committed to supporting every Duncan Aviation Component Services customer. Our knowledge, experience, and results are why tens of thousands of FBOs, brokers, mechanics, and flight departments of all sizes make us their first call, which in turn becomes their only call.