«Fall 2023
From Aging to Inviting

When it comes to refurbishing business aircraft, there's no doubt Duncan Aviation is an industry leader. We breathe new life into aircraft that have become worn over time and add a personal touch to aircraft that have changed ownership. When this 1998 Falcon 2000 arrived at our full-service facility in Battle Creek, Michigan, with the original interior, the team was ready for the challenge.
Duncan Aviation Designer Brandie Batten says this aircraft was well-used transporting executives and in need of a refurbishment. The owner, Mr. Solanki, told Brandie and Lead Designer Stephanie Kuhn that he wanted everything to be updated and modern.
"He didn't want to see anything that was original to the aircraft," says Completions and Modifications Sales Rep Tiffany Buschini. "We removed absolutely everything."
The Duncan Aviation team modernized the aircraft interior by installing new materials throughout. We also installed Duncan Aviation's modern, two-piece PSU (Passenger Service Unit), added new, stylized, square latches, and redesigned all the seating.
Vinyl Wrapping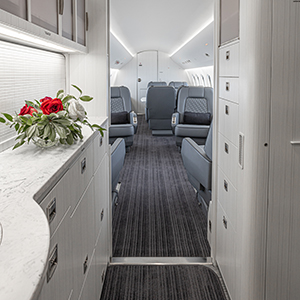 Mr. Solanki originally wanted a light veneer, which can be difficult to achieve using natural woods. Brandie and the Finish Shop at Duncan Aviation in Battle Creek introduced him to our vinyl wrap capabilities and he saw exactly what he was looking for.
"Vinyl wrapping is more maintenance-friendly, easier to clean, and allowed us to give him the bright white look he wanted while still providing a durable surface," says Brandie. "With traditional veneer, we are challenged with the natural characteristics of wood. There are limitations when trying to achieve a clear, white finish. Vinyl wrapping allowed us to give him the look he desired."
The result provided a woodgrain pattern that features a white base and fine grey lines with a metallic finish.
Modernized Seating
Stephanie proposed to modernize the cabin seats with quilted inserts. Knowing the capabilities of our automated quilting machine, they selected a unique design for the quilting. Our equipment and expertise allow us to customize the pattern and design to offer multiple options.
Avionics Upgrades
Senior Avionics Sales Rep Mike Morgan says the project originally started with a minor upgrade that included new Aircraft Lighting International (ALI) LED lights, Rosen Aviation monitors, and USB ports for charging.
"We soon discovered that it was necessary to replace obsolete equipment in the cockpit and cabin," says Mike. "The obsolete Honeywell Aerospace LASEREF II was upgraded to LASEREF IV and ALTO Aviation switches were added throughout the cabin, replacing obsolescent electronics and allowing for reliable functionality."
In addition to the cabin controls and switching updates, the owner selected a Collins Aerospace Airshow 500 Moving Map system to provide passengers with current trip information.
A Massive Undertaking
The aircraft also received a 4C inspection that required the removal of the vertical stabilizer.
"This was one of the largest projects I've ever led," says Project Manager Jarek Jones. "Well over 24,000 labor hours were approved. That did not include the hours that design, engineering, and other teams put into it. That shows the true effort and magnitude of this project."
The Details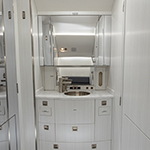 "The corners leading into the baggage area from the lavatory, and the entry going into the flight deck were damaged when the aircraft arrived," says Brandie. "The production teams put their heads together to figure out a solution that would not compromise the design aesthetic of the interior but also protect those edges in the future."
The team added metal trim strips to the corners of the cabinets at high-traffic areas to add durability. This solution highlights the flexibility and collaboration of our teams in providing solutions for improvement.
All of the upgrades incorporated into the refurbishment were designed to support the overall design and tie each area into a contiguous space. A contrasting top-stitch was added vertically to the lower sidewall for an added detail that ties in the window panel and headliner.
The pulls and handles were given a more contemporary and stylized look.
The aircraft arrived with a dark and enclosed feeling. After being fully overhauled, it now feels more spacious with lighter colors and textures.
The owner, together with the design and production teams at Duncan Aviation, turned his vision and willingness to review new ideas into an interior space that was beyond expectations.
Delivering on a Vision
The team continued the transformation with fresh exterior paint. Over time, business jets are exposed to extreme conditions and refurbishment of the exterior paint was critical to providing a necessary protection to the aircraft as it continues its missions.
The owner knew exactly what his new paint scheme should look like: blue and grey ribbon-like stripes that ascend up the tail. It was up to the Duncan Aviation Design and Paint teams to deliver that vision.
Excellent Workmanship
When a project of this magnitude is completed, there is always a sense of excitement and accomplishment. That is accentuated even more so when the owner shares their pleasure.
"The aircraft is looking great, and these results are due to the excellent workmanship of Duncan Aviation and all your team members," says Mr. Solanki. "We are very happy with the final product, and it has exceeded our expectations."