«Fall 2019
Managed Rotable Inventory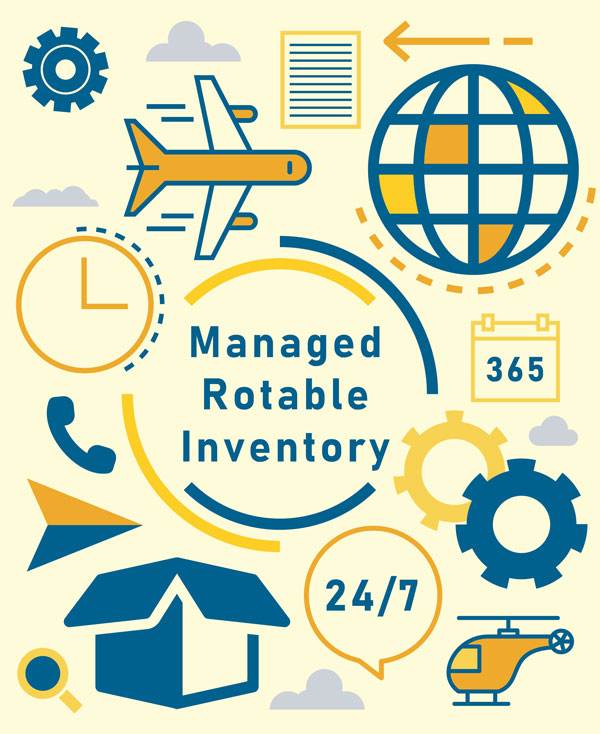 We understand you may have a healthy dose of skepticism after learning about Duncan Aviation's Managed Rotable Inventory program or MRI. It's a pretty unique program that allows you to sell your aircraft rotable inventory to Duncan Aviation's customer base while still maintaining ownership, price control, and oversight. Many clients think it is too good to be true.
Chris Gress, Duncan Aviation Parts & Rotables Sales Business Development Manager, hears that a lot. "Most people think they are missing something when we begin to discuss the basics of the MRI Program. But once they decide to become an MRI client, they're sure glad they did."
Here's how it works. MRI clients select aircraft components from their rotable inventory to be shipped and warehoused at Duncan Aviation in Lincoln, Nebraska. Daily operations such as customer service, sales, marketing, shipping, exchange, repair, insurance, and billing, are managed by Duncan Aviation PRS (Parts and Rotables Sales) while clients maintain ownership of their inventory and make all pricing and stock level decisions.
More MRI Advantages:
MRI clients are guaranteed payment regardless of the purchasing customer's payment status
Units are immediately drop-shipped, including HazMat or international compliance
There are no associated insurance or warehouse fees
Duncan Aviation is responsible for recovering the core unit
Sales are made 24 hours a day by 31 Duncan Aviation customer account representatives who answer the phones around the clock. If the purchase is made at 3am, the unit is immediately pulled and processed for shipping from a warehouse staffed 24 hours a day.
Clients have the choice to have all profits paid directly to them or put into a credit account for other Duncan Aviation services.
Stock Evaluations & Recommendations
All part numbers offered through the MRI program have gone through a thorough evaluation. "We make sure the part numbers we choose are part numbers our customers need," says Vince Cruickshank, Rotable Consignment Manager. Chris and Vince work directly with each MRI client to counsel and recommend what to offer to ensure the quality and value of the inventory is relevant. "Are there customers inquiring about these part numbers? Have we been quoting them? Are these parts on an aircraft that is no longer flying?"
There are even opportunities for clients with part numbers we already have in inventory. "If we already have our client's part numbers in inventory, there are other options we consider; such as is this an overhauled or repaired unit? Will this be an exchange unit or only available for outright sale? Ultimately, we want all our clients to be successful," Vince says.
Market Penetration
Once MRI clients are part of the program, they immediately experience the broad reach of Duncan Aviation's customer base. Inventories are marketed and sold to operators of helicopter, turboprop, and business, regional, and commercial aircraft.
One of our first MRI clients, a Director of Operations for an aviation materials company, had this to say about the program:
"We have increased our sales by 10% directly related to being in the Duncan Aviation MRI program. Because we have a different customer base, we are not just moving dollars around; we are experiencing new market penetration that we wouldn't have been able to reach without the MRI program."
Duncan Aviation PRS is also completely transparent about what is happening with each client's inventory, providing monthly stock analysis. "Their pricing is always accurate, and their payments are on time. They don't just tell me sales results; they tell me how often my units are searched, requested, quoted, and shipped. This information allows me to make decisions on adjustments to my MRI inventory to take advantage of trends and avoid spending time on things that are not productive."
Whatever doubts our MRI clients have in the beginning, those doubts soon disappear as the program makes fans through its results.