«Fall 2022
Working Smarter With Technology
Duncan Aviation is proud of the freedom team members have to be creative and look for new ideas. Similar to our Interior Innovative Solutions™, which include hydrographic finishes, our Upholstery team members found a more cost-effective way to control quality, creativity, and turntimes for the seats in customers' aircraft.
Upholstery Team Leader Travis Smith realized how much extra time and money it took to send seat panels to outside vendors for certain specific customization processes. Because innovation is a priority for Duncan Aviation, Travis sat down with his team and researched possible ways to bring these projects in-house. After identifying potential technology and attending automotive interiors trade shows, Travis and his team found a solution.
Perforation, Multicolor Sewing & Embroidery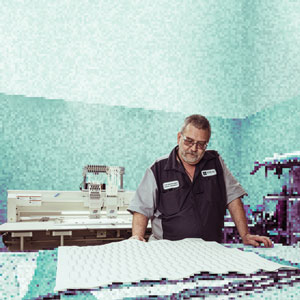 The newest addition to the Upholstery Shop at the Duncan Aviation full-service facility in Battle Creek, Michigan, is a state-of-the-art machine that allows us to create perforation, multi-color sewing, and multi-color embroidery on aircraft seats and panels.
"This machine allows us to control the quality and turntimes, and lets our imaginations run wild with possible designs," says Travis. "The designs are pretty close to endless with what we can do on quilted panels."
Before the machine arrived at Duncan Aviation in early 2022, similar work was outsourced and done with a comparable machine or had to be completed by hand. This made it difficult to give customers the creative freedom to choose the stitching and designs in their seats. The capabilities provided through the new technology and training allow us to better control the design and tailor it to each individual seat with pinpoint accuracy and precision. We are able to see on a computer screen where individual lines will hit and how the designs will look, giving us the ability to make minor alterations.
"Because we no longer have to send the seat panels out of house or complete them by hand, the time savings are huge," says Travis. "We can complete 20 panels in a couple of days with this machine, compared to a couple of weeks using the old methods. The result is dramatically reduced downtimes while maintaining Duncan Aviation quality."
Upholstery Master Specialist Todd Bartholomew says it's all about working smarter with technology.
"Rather than relying on tedious, old school ways of doing this by hand, we found a way that helps us move forward in a more efficient manner," says Todd. "Having this unique CNC machine in-house allows our Design and production teams to offer custom quilting, perforation, and embroidery to our customers while controlling the lead times to ensure we meet downtime needs."
The new technology is currently helping the team produce custom cabin seat inserts in-house, but Todd and his team are not stopping there.
"We are working to customize throw rugs, entry runners, lower sidewall accents, and company logos," says Todd. "Customers will now be able to personalize their aircraft interior components to a new level."
The Process
When a customer chooses customized, quilted patterns, the first step is to have one of our designers send Todd a conceptual design. Todd then draws it on a computer and converts the drawing into the machine's language with all the parameters it needs. A test panel is then completed. After the test panels are perfected, Todd creates a finished design sample for the customer to see and approve. After approval, Todd and his team run the final panels and get them inspected before they are installed in the aircraft.
Innovation is Contagious
Interior Manager Kody Keller said that introducing new technology and equipment into the shops allows team members to remain curious and helps evolve our craft to offer the best products to the industry.
"Innovation is contagious, and it has always been a part of the Duncan Aviation culture," says Kody. "Continuous improvement helps us work smarter, not harder, which helps with team morale, overall fulfillment of our team members, and customer satisfaction."