«Fall 2022
A Continuous Quest to Expand & Improve Satellite Services
In the early 1980s, Duncan Aviation established a network of Satellites that placed Duncan Aviation avionics technicians at many business aviation airports where our customers were located.
Today, Duncan Aviation has 29 Satellites throughout the country. Customer demand remains strong for the avionics support they provide.
The teams at the Satellites routinely troubleshoot, service and repair, install, and inspect virtually any type of avionics equipment business aircraft have or need. They coordinate repairs, overhauls, exchanges, loaners, and parts needed for jet, turbine, or piston-powered aircraft and helicopters.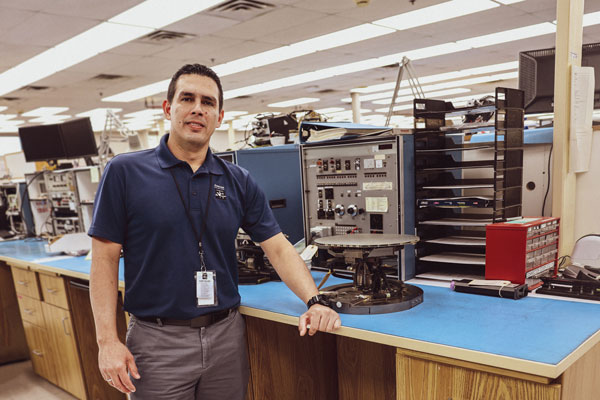 Because of the convenience of welcoming Duncan Aviation professionals to their own hangars for high-quality work, customers have requested additional services.
In an effort to stay on top of these requests, study the market, and determine what opportunities exist for the Satellite network, Duncan Aviation has hired Bruno Mazzani as its New Business Development Coordinator.
Born in Maracay in Venezuela, Bruno earned a degree in Mechanical Engineering from the Universidad Central de Venezuela, and while working for a company that imported and exported auto parts, he earned his Master's Degree in Business Marketing. As the political, economic, and social situation in Venezuela deteriorated, Bruno and his wife Ligia Rodrigues moved to the United States in 2017, and he went to work as an Automotive Engineer for a company in Smyrna, Georgia, prior to coming to work at Duncan Aviation.
Expanding Services
"We're asked often to add services from tool calibration to limited airframe maintenance at some of our Satellites," says Manager of Satellite Operations Matt Nelson. "We decided it was time to hire Bruno to work with our Satellite teams and our customers to manage the diversification and growth ideas, handle continuous improvement initiatives, manage vendor/partner projects, and look for long-term strategic business development opportunities."
For instance, in 2020, 19 of the Satellites added main ship and emergency power battery capabilities to their complement of services, and several are now certified HazMat shippers.
In 2021, the Duncan Aviation Satellite in Teterboro, New Jersey, began offering limited airframe services in a partnership with Meridian. Bruno will carefully study the existing services at each of the other Satellites to see if customers would benefit from additional services such as interior repairs and refresh, tool calibration, battery charging, and limited airframe maintenance.
Bruno will also study the feasibility of working with outside engineering firms and vendors to seek collaboration among firms, vendors, and Duncan Aviation Satellites to develop new programs. For instance, last year, the Duncan Aviation Satellite in Denver, Colorado, collaborated with BendixKing, a customer in Seattle, Washington, and an engineering firm in Denver, to develop an STC (Supplemental Type Certificate) to install the BendixKing AeroCruze 1000 Autopilot in Mooney M20-series aircraft.