«Fall 2022
A Remarkable Year
To say Tim Barber, Aircraft Sales & Acquisitions, has had a remarkable 10 months would be an understatement. Tim completed 10 aircraft transactions in 10 months. This included the acquisition of several Embraer Legacy 600s and the sale of a BBJ2 (Boeing Business Jet 2). Of the 10 global transactions, five were brokered sales and five were aircraft acquisitions.
"I completed transactions involving parties in Europe, the United States, Asia, Africa, Turkey, Central America, and the Middle East," says Tim. "This is a great illustration of just how global the business aviation sector is."
Only one transaction was actually considered pretty straightforward. The majority were lengthy processes convoluted with varying degrees of complexity.
In addition, all of the acquisitions involved the purchase of aircraft that were not being openly marketed and came to our attention as a result of us reaching out to our internal and external network.
Off-Market Opportunities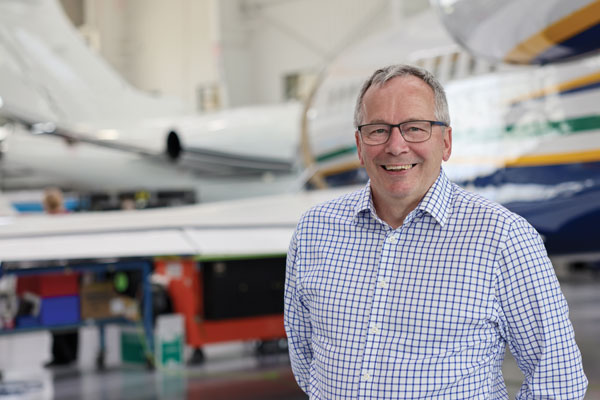 Although no one was able to travel much during the pandemic, it became a very productive period for our Aircraft Sales team. Because of the relationships formed by Tim and the rest of the Aircraft Sales team at Duncan Aviation, acquisitions were secured through the team's network of contacts.
"With more than 300 Duncan Aviation team members in the field who have daily interaction with owners and operators, we offer unparalleled, off-market intelligence," says Tim. "This made it possible to look for aircraft worldwide."
The Duncan Aviation Aircraft Sales & Acquisitions team is backed by an in-house import/export team that can maneuver clients through often-complicated cross-border transactions.
"It got a bit hectic," says Tim. "Due to my contacts being located around the world, I was needed across all time zones. My days started very early and ended very late."
Fortunately for Tim and his clients, he had the full support of Duncan Aviation behind him. Located in London, United Kingdom, it was tough for Tim to travel to the United States to check on a Legacy 600 that was going through PPE (prepurchase evaluation) and maintenance. Tim gave Rapid Response Technician Forrest Ferdon a call and he was able to make evaluation visits to check over the aircraft.
"Clearly the Duncan Aviation name speaks for itself and is a byword for quality in our sector. Having this team supporting me, in addition to the Aircraft Sales team, is invaluable," says Tim.
Exclusive Agreements
All of Tim's aircraft transactions were exclusive agreements, meaning Tim had an exclusive contract with a client to buy or sell an aircraft.
"Because they made the commitment to pay Duncan Aviation for the sale or acquisition, we were able to commit a huge number of resources to the transaction," says Tim. "If they are selling an aircraft, we invest heavily in marketing both online and in print media to make it visible. In addition, our research team keeps on top of current market conditions and makes hundreds of phone calls. For the aircraft acquisitions, we spend many hours researching the market and leveraging our industry contacts to find the best options, looking well beyond those that are being openly marketed."
Tim says some prospective clients are often hesitant to sign an exclusive agreement.
"Many buyers and sellers often think the more people they have looking for an aircraft or seeking to sell their aircraft, the better. That's rarely the case," says Tim. "Intermediaries who have no real agreement to sell the aircraft sometimes misrepresent what they are selling. Such activity is a waste of everyone's time."
"I've worked with Tim on a number of aircraft deals over many years and the recent G450 acquisition we worked on together was another great example of his ability to find aircraft that no one else can. Add to this the fact that he has the phenomenal support of Duncan Aviation behind him, and I know that my clients are in safe hands."

Turhan Gungor, Ion Aviation, Istanbul
Tim strongly recommends buyers or sellers work with a well-chosen partner exclusively appointed to support their needs. When the Aircraft Sales team receives an exclusive agreement, they instantly put the word out to their large and ever-growing network and devote all of their time and effort into the client and the aircraft.
"At the end of the day, we are held accountable," says Tim. "We want to find the best possible aircraft for our client and don't leave anything to chance. We are uniquely positioned to support and complete highly complex transactions with wide-ranging technical knowledge to help clients make the most informed buying/selling decisions."
What's Next?
When asked where the preowned business jet market is headed, Tim says there are lots of unknowns. These include much talk of recession, the war in Ukraine, the ongoing impact of the pandemic, fuel cost escalation, the global political situation, the environmental lobby, and politics of envy. They will all likely have some impact.
"At the end of the day, my colleagues and I have been providing aircraft sales and acquisitions services for owners and operators of business jets and turboprops for more than 65 years. Clients benefit from having an expert who is positioned well to make transactions happen in any kind of market."