«Fall 2022
From Energetic  & Electrifying To Understated & Elegant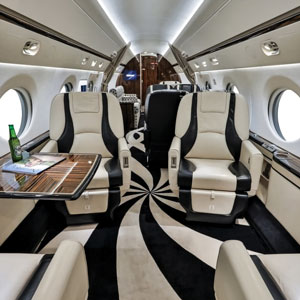 This Gulfstream G450 with its classy new interior was touched by dozens of technicians in multiple shops and departments at Duncan Aviation before it delivered to its new owners earlier this year. Going for understated elegance, the new owners worked closely with Lead Designer Carie Bruss at the facility in Lincoln, Nebraska, to come up with an interior that featured muted tones of grays and whites, and a silky white exterior with blue and gray stripes.
The previous interior was energetic and flashy, and it featured electrifying patterns in blacks and creams. The black swash pattern from the cabin carpet had been replicated on the exterior of the plane, so the new owners opted to repaint the exterior as well.
Sr. Completions Sales Rep Jeff Beaudette said of Carie's exterior paint design, "It is one of the nicest paint schemes I've seen on a large-body Gulfstream. We took elements of multiple popular schemes and added accent striping on the engines and vertical stabilizer. It's a striking look."
Moving to the interior, nearly everything in the cabin was replaced or refinished. The teams stripped and refinished the wood throughout the cabin, replaced softgoods and carpet, and performed other modifications, such as adding an ice drawer, a dedicated liquor cabinet, and custom dishware inserts to accommodate the customer's new set of china.
"We changed the headliner, so we installed new white shades that match the matte white window panels," says Carie. "All of the hardwood edge trim in the aircraft was hydrodipped, as were the table edges and the side pieces on the bulkheads. The rest is real veneer."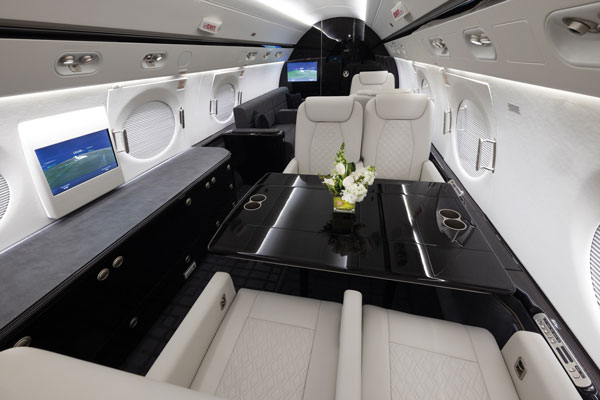 View the full gallery
The piano-black, glossy fold-out tables perfectly set off the comfortable seats with their new cream-colored, quilted leather inserts. Gray, textured-leather lower sideledges complement the dark gray carpet with its black geometric pattern.
Moving toward the back of the cabin, the divan was covered in a two-toned gray, patterned wool, and plug-in armrests were fitted with brushed nickel-finished cup holders.
Duncan Aviation avionics technicians also installed a new XM weather interface so pilots can display real-time weather information on their iPads.
"Our avionics teams installed new USB charging ports in the cabin and upgraded the CMS (Cabin Management System) to the Collins Aerospace Venue Essential, swapping out old SD components so passengers could view HD video on the three new monitors," says Avionics Sales Rep Brent Hudecek. "We upgraded to the new digital Airshow system and put in new digital Alto speakers because a good sound system was important to the new owners, too."
The result is an elegant interior featuring contemporary colors and designs.