«Fall 2022
If We Build It, They Will Come
Duncan Manufacturing Solutions Receives Certification
DMS (Duncan Manufacturing Solutions) recently earned its AS 9100D and ISO 9001:2015 Certification, the international standard for Quality Management Systems for aviation manufacturing organizations. The certification dictates system requirements with the challenges of the aviation industry in mind and is required for government and aviation parts manufacturing support contracts. The scope of the DMS certification is the manufacturing services of sheet metal, composite, and precision-machined components as well as special processes of welding, heat-treating, finishing, and top coating of assemblies for commercial, industrial, and aerospace industries as guided through customer-provided purchase order requirements.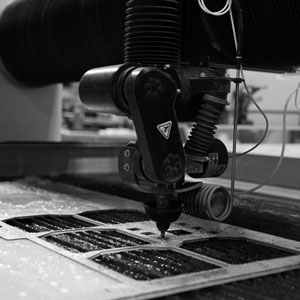 The achievement has the industry buzzing.
Scott Stenka, Duncan Manufacturing Solutions Manager, says the word has gotten out, and requests are coming in. "This certification is opening doors and growing our support for OEM and industry partners. We are becoming another resource for them to put quality parts on their shelves to support their aircraft."
Each OEM defines quality differently with its own set of requirements. For DMS to become a part of their parts manufacturing process, each will conduct an audit specific to these requirements by inspecting equipment, verifying capabilities, and developing the processes and standards for Duncan Aviation to support their parts manufacturing needs.
Gary Strapp, Duncan Aviation's Executive Manager-OEM Strategic Initiative, says one such authorization of DMS will be completed by way of demonstration.
"One of our OEM partners is providing all rigging, tooling, and sub-components along with full support of their engineering team for Duncan Manufacturing Solutions to manufacture ailerons on a non-production model aircraft. Completing this project successfully will lay the foundation and provide the basis for approval and future work," he says.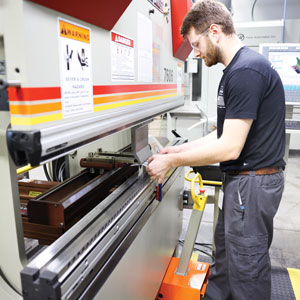 With each OEM authorization, DMS is one step closer to becoming a strategic partner as a second-tier vendor for quality parts for both new production and legacy aircraft.
"The demand for new production aircraft continues to rise," says Scott. "And so does the demand for aircraft parts. DMS has the capabilities and experience to partner with OEMs supporting these new deliveries while simultaneously providing parts to assist in keeping the fleets of legacy aircraft flying.
It isn't just OEMs interested in DMS capabilities.
DMS teams are currently busy building ACA (Aviation Clean Air) and Gogo AVANCE L5 Broadband Internet and Wi-Fi kits. These kits support Duncan Aviation-developed STCs (Supplemental Type Certificates) and installation packages. The ACA and the Gogo AVANCE L5 Broadband Internet and Wi-Fi kits can be installed on several specific make/model business aircraft.
DMS has also begun the process of achieving the NADCAP (National Aerospace and Defense Contractors Accreditation Program) accreditation. This technical certification applies to quality standards and procedures for special processes such as heat treating, welding, and composites.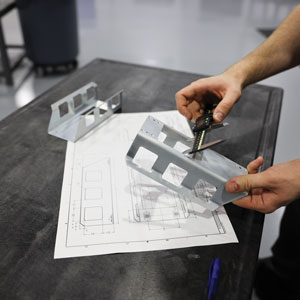 CNC Milling
HAAS VF5, HAAS VF6, and HAAS UMC750 Five-Axis
Epilog Fusion Pro 48–Dual Laser Engraver
Haas ST30Y Lathe
Heat Treating
Two Delta H Heat Treat Ovens with envelopes of 16x16x24 inches and 16x24x72 inches
Full Sheet Metal Capabilities
Accurpress 7606 Press Brake
Omax 60120 Waterjet
Composite Repair
Positive airflow composite shop—prepreg composite repairs and manufacturing, featuring a 1,150-square-foot clean room, a 12x24-foot paint booth with a mixing room
ASC Autoclave 6x15-foot working envelope
Quality Control
Hexagon Absolute 7-Axis arm multi-functional measuring tool