«Fall 2022
Philanthropy At Work
At Duncan Aviation, we believe that giving back not only makes our communities stronger but also helps deepen and strengthen our connections to them.
"As a family owned company, our success is partially rooted in our connection to and support from our local communities," says Vice President of Team Member Services Leon Holloway. "Along with providing viable career opportunities, it's important as an organization that we share our success with those in our community through action and service."
Every year, the Duncan Aviation SMT (Senior Management Team) and team members throughout the enterprise identify schools, organizations, and events in our communities to support through material donations, volunteer opportunities, and financial assistance through the Duncan Aviation Family Trust.
Lincoln, Nebraska
Among the community organizations in Nebraska to receive support from Duncan Aviation are the Asian Center and the GNC (Good Neighbor Center).
The Asian Center
During last summer's heat wave, Duncan Aviation's Human Resources team bought and donated 150 16-inch oscillating pedestal fans to the Asian Center. Warehouse Team Lead Ryan Young and Shipping/Receiving Specialist Randy Kozak delivered and unloaded six pallets of boxes so clients of the center who needed a break from the heat could receive a free fan.
For the past couple of years, the Duncan Aviation Family Trust has sponsored a table, donated supplies, and provided hangar space for the center's annual Curry Clash where chefs from 15 local restaurants are invited to prepare an Asian-inspired dish and the public buys entry tickets as a center fundraiser.
The Upholstery Shop also donated an industrial sewing machine. "We had one not in use, donated it, and set it up," says Curt Eliker, Assistant Manager of Interior Modifications and Completions. "In addition to the sewing classes the center provides on their own machines, we hoped some of the center's clients could get some hands-on training on the industrial one, sharpen their skills, and perhaps apply at Duncan Aviation."
The GNC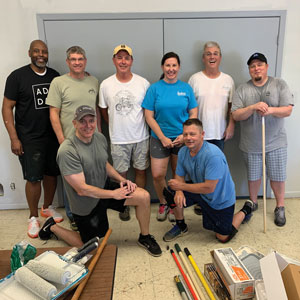 The GNC provides humanitarian support to low-income families and refugees resettling in Lincoln. Duncan Aviation provides a variety of support to help.
"We have donated proceeds from company fundraisers, held clothing drives, and volunteered there," says Leon. "We've hosted facility tours and last year, we hosted an on-site career fair specifically for GNC clients who are seeking employment."
As a new member of the GNC advisory board, Leon is learning about the center and the board's fiduciary duties and helping gauge interest in job-seeker career classes (resume writing, job searches, submitting applications, and interviewing) and job-shadowing at Duncan Aviation.
"We volunteer with their citizenship classes, preparing students who are taking their citizenship tests," says Leon. "Soon, Duncan Aviation team members will volunteer to teach the ELL (English Language Learner) classes for their refugee and immigrant population."
The SMT, managers, our Facilities team, and various team members have also helped with clean-up tasks, repaired and painted the building, maintained vehicles, donated updated kitchen appliances, and helped update the center's HVAC system.
Battle Creek, Michigan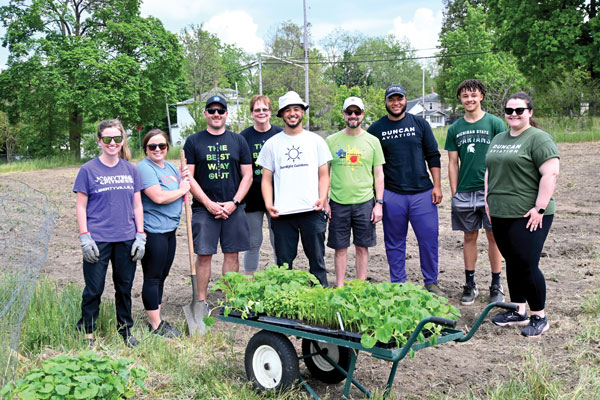 In Battle Creek, Michigan, we proudly support the Burma Center, and Duncan Aviation Executive Vice President and Chief Operating Officer Andy Richards serves as a board member for the center's Capital Campaign. The center supports the local Burmese American community and seeks to bring the dream of a multicultural society to Battle Creek neighborhoods. The Capital Campaign is focused on The Gathering Place, a central meeting location for numerous local organizations including the Burma Center. Critical needs include a new HVAC system, parking lot, roof, and ADA accessibility.
"We've been raising awareness of the center and seeking financial support from other local corporations and industries," says Andy. "We also welcomed four members of our Burmese community to Duncan Aviation as summer interns."
The Southwest Michigan Disability Network also accepted support from Duncan Aviation for their Ramp-A-Thon project, which creates more accessible housing in the Southwest Michigan area and ensures those with disabilities can live independently while maintaining the ability to connect to their communities and seek employment.
Connecting With Our Communities
Community support extends beyond the areas that house our full-service facilities.
For example, in February, the Duncan Aviation Satellite in Kansas City, Missouri, invited 52 children from Grant Elementary School to tour the shop. Avionics Tech Tyler Kelly lined up speakers to showcase careers in aviation and provided lunch.