«Fall 2022
Quality Is Not One Thing. It Is Everything.
"Duncan Aviation's quality is second to none. I've been using Duncan Aviation since 2002, and I'm impressed with the service every time I take an inspection there. The teams that I have worked with always make me feel that they are just as concerned with my aircraft as I am."Scott Kershaw, Chief of Maintenance for Aramark
Duncan Aviation has a unique company culture. At its core is the work ethic of every single team member, who believes in what they do and brings their A-game to work every day to deliver the highest level of quality back to our customers.
"Quality is not one thing," says Duncan Aviation President Jeff Lake. "It's everything, and customers witness it in all phases of their experience with us."
Quality In Relationships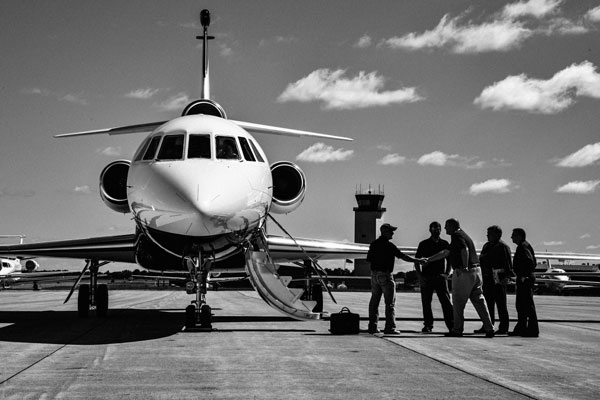 Business aviation is a relationship industry. Relationships build trust, as does quality. Our team members' long-term relationships with our customers are why they continue to return to Duncan Aviation and give us their business. They trust us to take care of them. These relationships run so deep that eventually, they are no longer just customers, they're friends.
"I've never professed to be the sharpest guy in the room, but the people who know me trust me and know if I don't have the answer in the beginning, what I come back with will be factual. I'm a man of my word."Tim Kelly, Duncan Aviation Regional Manager
Quality in Sales
Most of Duncan Aviation's Sales Reps were once Aircraft Technicians. They turned the wrench, tested the system, and built the interiors. They have an intimate knowledge of the technical issues customers face and can speak the language and ask the right questions.
It goes without saying that Duncan Aviation's sales proposals are detailed. Customers know what is included and what is not. During our sales process, many details are covered, and several questions are asked. Customers are provided with everything they need to make informed decisions because it's the details that often make the most significant impact in the end.
"To produce a quality product, you must first have an accurate sales quote, in terms of both workscope and pricing. It gives technicians a clear and accurate understanding of the workscope with no surprises. We are honest and detailed in our pricing to mitigate any surprises to the customer when the work order is invoiced."Jamie Wilson, Senior Engine Service Sales Rep
Quality in Planning/Project Management
The plan for a maintenance event begins long before an aircraft arrives. The Project Manager has assembled a team representing all areas of the company that together develops a plan for the entire project, answers all questions, and identifies major milestones. The earlier a project is planned, the earlier necessary parts, materials, and resources can be identified and secured, if available.
Project Managers remain the single point of contact for customers and Team Leaders throughout the project. They are flexible, getting out in front of issues to keep a project on track. Customers appreciate the quick and transparent communication they receive. If challenges arise, potential solutions are thought through and presented.
"During the planning phase of a maintenance project, we discuss as many details and areas of concern as possible. It is impossible to plan for every possible event, but if it's discussed, it won't be a surprise to the teams or the customer. Openly discussing these details with the customer gives them the confidence that we've put thought and effort into planning and will use our experience to deliver the best possible product."Shawn Busby, Duncan Aviation Project Manager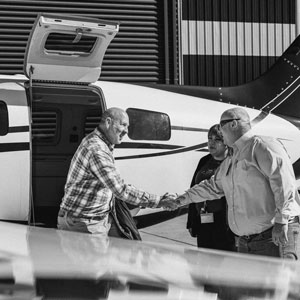 Quality in Communications
"It is ALWAYS a pleasure to work with Duncan Aviation, and no matter whom I get to interact with on a particular project, I know it will be professional, of the highest quality, and most of all, a great experience. I feel obligated to share that with the rest of the aviation community."Jim Rezich, Rezich & Rezich Aviation
Communication doesn't just take place between the customer and the Project Manager. Each team member touching the aircraft must be brought into the loop and updated regularly. Project flow charts are developed and published, allowing any Duncan Aviation team member access to the schedule. This information is continually referenced throughout the project and is updated with the most accurate information available as milestones are achieved.
According to customer feedback, open communication is an area where Duncan Aviation especially excels. That is attributable in part to our myDuncan customer portal, which lets customers be productive wherever they happen to be. Of the 2,660 aircraft projects completed in 2021, nearly 75% were managed off-site, allowing the aircraft representatives to stay current on project status, item approvals, and budget while keeping up on things at work and home.
When it comes to working together on a multi-shop project, the communication and effort of the Duncan Aviation team is remarkable. Our customers trust our process.
"Duncan Aviation's planning, communication, and project management are unmatched. There is no comparison. Others could learn from Duncan Aviation's process."Allen Ulmer, with Sanderson Farms
Quality In Production
The skill of Duncan Aviation's maintenance teams is where the magic happens. The relationships, communication, and planning activities lead to this main event.
Maintenance teams attack the inspection hard up front. They hit the hot spots early to identify squawks and other potential issues. Issues identified early can be taken care of early. With years of experience, the teams work together in concert toward the common goal of delivering on time with zero squawks.
Quality In Continued Support
Because we firmly stand behind our work, our support doesn't end when the project is over. It is a continuous commitment to make things right long after the aircraft leaves the hangar. We care about your experience and will follow up with you in the days, weeks, and months after to ensure you are still satisfied with the results. In those rare instances where we fall short, we have warranties in place to cover our workmanship.
In the time between scheduled inspections, customers can call upon our 31 Tech Reps who have expertise in Challenger, Citation, Embraer, Falcon, Global, Gulfstream, Hawker, King Air, and Learjet aircraft. They provide technical and troubleshooting guidance in accessories, airframe, avionics, components, instruments, interiors, engines, and structures.
Our network of Satellite shops and Rapid Response Teams are strategically located across the United States, ready to provide scheduled and unscheduled airframe, avionics, and engine support in the field.
The bottom line is we are going to be there for you.
Quality is at the core of everything we do at Duncan Aviation because lives depend on us. That is not an exaggeration. For this reason, we build trusting relationships, provide honest proposals, and create a solid plan to deliver the highest quality repairs, overhauls, upgrades, installations, and inspections.
Duncan Aviation is a name that carries weight in the business aviation industry. For many, it stands for honesty, integrity, customer service, solutions, support after delivery, and value. It stands for Quality.