«Fall 2022
Safety Management Systems Benefits

Duncan Aviation began developing an SMS (Safety Management System) in 2013, although there was not yet an industry regulatory requirement for MRO (Maintenance Repair and Overhaul) facilities to implement one.
"We wanted to implement an SMS and provide feedback to the FAA from an industry perspective, which we did through organizations such as GAMA (General Aviation Manufacturers Association) and participation in the FAA's voluntary SMS program," says SMS Manager Mike Brown. "We believed having an SMS would eventually be mandated and we felt it was important for the MRO community to have a voice in the process. So the recent EASA regulation (EU) 2021/1963 requiring SMS for MROs was not a big surprise."
An SMS is a set of formal processes and tools that comprise a structured safety program to better manage hazards and continuously improve the safety of products, services, and people. Although we have had written processes in place for decades, formalizing an SMS helped us better identify hazards and communicate them and their corresponding mitigations enterprise-wide and share information with the industry.
"Sharing information is a necessary part of any SMS," says Mike. "Our ability to share the collective company wisdom helps prevent repeat mistakes, saves technicians and customers time, and helps the industry through publishing in places like our Straight Talk podcasts and webinars and our monthly Duncan Intelligence email."
We house data in the DAK* (Duncan Aviation Knowledgebase), which is accessible company wide. It contains technical notes about problems and their resolutions so others can benefit.
Hazard identification and risk management are SMS keys. Hazard identification is done three ways: reactively, proactively, and predictively.
Reactive
We formally review every incident, which is the reactive component, and we thoroughly document everything. The SMS puts in place processes to formally share information throughout the company. When a problem occurs, we make sure the resolution is implemented in all our facilities.
Proactive
Employees are encouraged to report any type of hazard that may lead to an incident or injury. Our hangars are busy workplaces with a multitude of moving parts. Having team members engaged and proactively reporting hazards before they become problems is crucial.
Predictive
As part of the SMS, whenever changes are proposed to systems or facilities, teams sit down and discuss possible hazards and ways to prevent them.
For instance, Duncan Aviation is building new hangars at its Lincoln, Nebraska, and Battle Creek, Michigan, locations. Long before the actual groundbreaking, management conducted a formal risk assessment of every aspect of the new hangars.
"Because of the SMS, we had a way to look at everything the expansion will touch, identify risks, and put plans in place to mitigate them," Mike says.
SMS Affects Our Customers
Duncan Aviation's scheduling process is a safety risk management issue and one that affects our customers.
"Before we schedule a customer's aircraft to come to one of our facilities, we have a team of schedulers who make sure we have hangar space, the proper tooling, and adequate technicians who are appropriately trained and certified for the job," says Mike. "We have to know if there are several of the same aircraft coming in at the same time because that could stretch our technicians too thin. We have to check supply chains and parts availability. Those are all potential risks that may prevent us from completing the project on time."
Additionally, when customers drop in when we have no hangar space, we let them know their aircraft will be worked on the ramp. We have to assess the risks to our technicians and the aircraft. Will the ramp be icy? Will technicians be working in the dark?
"The safety risk management process helps us make sure a less-than-ideal situation runs as smoothly as possible," says Mike.
Day In The Life Video Series
Catch a glimpse of what it's like working at Duncan Aviation!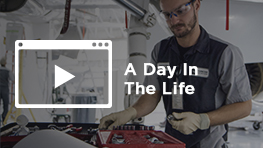 www.DuncanAviation.aero/day-in-the-life
Duncan Intelligence
One of the most beneficial aspects of an SMS is the ability to share the hard-won wisdom with team members, customers, and the business aviation community. Although there is no formal industry wide repository for owners, pilots, or maintenance teams to access, Duncan Aviation does its best to share potential gotchas. Each month, we email the Duncan Intelligence, a newsletter that shares potential problems and solutions that affect accessories, airframe, avionics, and engines.
Example articles include:
April 2022. Hawker, Don't Forget Chapter 24: Electrical Power Maintenance Practices—prevent damage to a terminal block caused from improper torquing of the terminal nut and improper orientation of the terminals themselves.
November 2021. Falcon 7X, Greasing Of The Horizontal Stabilizer Trim Actuator—When performing a 12-month/800 hour lubrication of the H-Stab actuator, make sure to use the proper grease gun adapter and correct technique to avoid rejection of the actuator due to it not taking grease.
August 2021. Fuel System Contamination & Starvation—Starvation occurs when the available fuel is unable to reach the engines. Water, debris, and microbes in an aircraft fuel tank clog fuel supply lines and filters and ultimately starve the engines of necessary fuel.
Read, listen, and subscribe: www.DuncanAviation.aero/intelligence