«Fall 2022
Shaping Our Future Today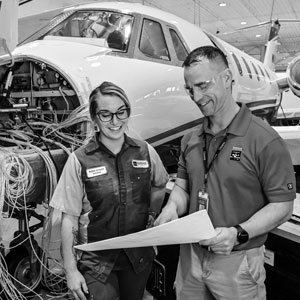 Planning for the future and developing future leaders is very much a part of Duncan Aviation's day-to-day business operation. Company leaders invest in and encourage young leaders to take an active role in their career development and the company's future.
Mentoring
In 2014, Duncan Aviation's Senior Management Team recognized the need to purposefully plan for leadership succession and implemented an Executive Mentoring Program that identifies individuals who would most benefit from leadership development and invites them to partner with a member of the Senior Team or another company leader for 12 months.
Each mentee is responsible for driving the relationship, frequency of meetings, topics, and interactions. It gives them ownership of their own growth.
"We are building a mentoring culture," says Lance Odom, Duncan Aviation Enterprise Manager of Professional Development. Mentoring is a high-impact, low-cost strategy that builds quality relationships, communication, teamwork, motivation, problem-solving, conflict resolution, emotional intelligence, and critical thinking. "Our goal is for individuals who enter into a mentorship relationship, whether formal or informal, to take the knowledge and skills they have learned and provide the same guidance to others," Lance says.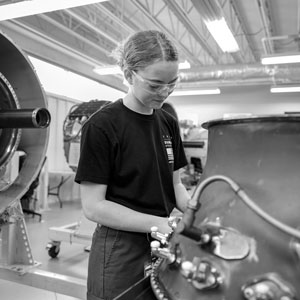 Mentoring is also an excellent tool for succession planning, and not just for top leadership positions, but for careers at every level companywide.
Beth Guthrie, Facility Manager at Duncan Aviation's MRO in Provo, Utah, is a current participant in the Executive Mentoring Program, meeting regularly with Lance. She recognizes the honor of being invited and doesn't take this opportunity lightly.
"It was intimidating in the beginning," admits Beth. "I was unsure of what to talk about that had any relevance. However, I quickly learned that Lance had most likely already dealt with any issue I brought to the table and willingly shared his experiences. It was eye-opening and gave me a different perspective to make my own decisions about what to do."
This experience has made Beth more mindful of her actions and words when leading her team. "Mentoring is the simplest thing with the most effective impact on others," she says.
It is not unusual for mentors and mentees to continue meeting long after they have completed the formal program. Kasey Harwick, Vice President of Aircraft Services in Lincoln and Eric Sorensen, Assistant Manager of Engine Line in PVU, began their mentorship in 2020 and still connect on a casual basis.
"I gained a lot from meeting with Kasey, and what I learned comes into play daily," says Eric. "Our conversations were honest and personal and gave me the affirmation that I was doing OK, and that it's OK to not always have the right answer. But I can reach out to Kasey and talk it through."
Kasey says mentors and mentees should learn equally from each other. "Each mentoring experience is different. There are no structured agendas. Life, work, and world events dictate the direction of the conversations."
Kasey and Eric agree that the mutual trust built during the mentoring experience allowed them to share their issues and challenges freely, strengthening their relationship for the long term.
Relationships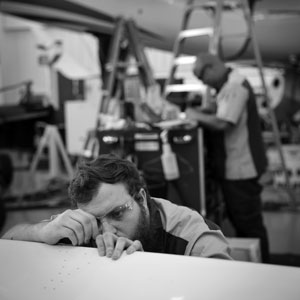 "Mentoring is who we are as an organization," says Kasey. "Duncan Aviation is made up of relationships. We take care of our team members, equip them to be successful, and empower them to lead and make decisions. They, in turn, take care of each other and our customers."
Business aviation is also a relationship industry. If you talk to our customers, one of the main reasons they come to Duncan Aviation for their service is their relationships with Duncan Aviation team members they have come to know and trust.
In addition to the mentoring program, Duncan Aviation has committed nearly $7 million in 2022 for tuition, travel, and labor expenses for all team members to participate in continuous education and career development. It is the largest annual training budget in company history.
In the first half of 2022, there were 34,700 learning interactions/completions. That is an average of eight learning touch points per team member.