«Spring 2021
Duncan Aviation Backshops Take Center Stage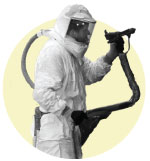 "If you can't do everything, I'm going somewhere else. Call me."
It was a message Austin Chambers, Duncan Aviation Airframe Service Sales Rep based in Battle Creek, Michigan, received loud and clear.
This DOM had two weeks, a long list of known squawks that needed immediate attention, and no desire to have anything sent out to a third-party vendor. It was an all-or-nothing package that required a diverse set of specialized skills.
Unfazed, Austin went to work.
After a quick review of the list, he immediately identified all of the Duncan Aviation shops and backshops required to complete the work: structures, avionics install, avionics line, fuel, airframe, and landing gear.
Duncan Aviation's long list of skilled backshops were not only capable of handling all the known squawks, but were prepared to handle any others that may be discovered along the way.
"Anytime you start looking behind access panels, under the carpet, or inside small spaces, is when the truth is uncovered," says Austin. "The potential is high that we'll uncover a few surprises like corrosion, fluid leaks, structural fatigue, to name a few."
This is when Duncan Aviation's backshops take center stage, and we are set even further apart from the competition.
The value of Duncan Aviation's backshops is measured by more than dollars. They are invaluable in providing competitive quotes, aggressive downtimes, quality products, and customer support that keeps projects on schedule and continues long after the aircraft has left the hangar.
Control of the Schedule
"Let's figure out how to get this done."
When an aircraft arrived needing five STCs (Supplemental Type Certificates), a lot was happening at once. To complicate things more, there was documentation that didn't match what was on the airframe. Duncan Aviation's Alterations Planning Team stepped in to find a solution to safely return this aircraft to service with approved data for deviations.
Dennis Kruse, Avionics Service Sales Rep in Provo, Utah, says having teams like the APT makes his job a lot easier.
"The APT determines the correct scope of an avionics install project that involves making aircraft alterations," explains Dennis. "They identify our available resources to perform the install, determine if it requires an STC, Major Repair Alteration (MRA), or other RTS (Return to Service) paths. They know their stuff!"
Dennis presents these plans confidently to his customers, knowing the return-to-service path meets all milestones and requirements.
As much as the APT determines what path is taken during avionics projects, Duncan Aviation's schedulers determine the when. These coordinated team members from the airframe, avionics, interior, and paint shops talk back and forth daily, discussing labor and shop availability. When they come back with a schedule and downtime, it is accurate. If they say it's 5-weeks, then it's 5 weeks.
Control of Costs and Quality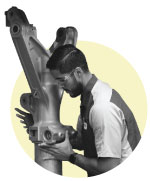 "I don't know what I'll get back until I get it back."
Sending work to outside vendors can be stressful for customers and internal staff, says Angie Coleman, Completions and Modifications Service Sales Rep in Lincoln, Nebraska. "When we send work to an outside vendor, we are sending Duncan Aviation's reputation with it. We have to ensure our outside vendors are meeting the same Duncan Aviation quality we would if we did the work ourselves."
Angie explains that maintaining Duncan Aviation's reputation in the eyes of her customers is personal. "I take great pride presenting the work our in-house back shops produce. They do great work. It's personal to them, too."
That's not to say that every project goes as planned. But when issues arise, they are resolved quickly, and that's impressive.
"If a galley gets delivered to the aircraft for installation and it doesn't fit, it is taken back to the shop and immediately fixed. There is no need to take additional measurements, document what's wrong, and ship the unit out for rework, all at the expense of the schedule and budget," Angie says. "We have one of our master cabinet technicians come to the aircraft to see what needs adjusting. They then go back to the shop and get it done. We see the new unit back no later than the next day. This applies to nearly everything installed in the cabin, including carpet, stone floors, and countertops. Everything."
Customers want to see options when selecting the materials and finish that will complete their interior refurbishment. The in-house design centers at all our MRO locations have a full library of material samples readily available. But when something different is called for, they aren't afraid to tap into the skills of the interior backshop, Angie says. "Want to know what this pattern will look like when hydro-dipped? Let's go find out."
Knowing what the final product will look like takes the guesswork out of the process and puts everyone at ease.
Creative Solutions
"There has to be a better solution."
When the only options available are from an expensive outside resource with a long lead time, it doesn't take long before Duncan Aviation technicians begin looking for better options. This innovative thinking has resulted in many creative solutions giving operators more choices for a lot less money.
Citation step treads were only available from the OEM with a long lead time and limited color selection.
Through Duncan Aviation's ODA (Organization Designation Authorization), a new step tread was designed and given PMA (Parts Manufacturer Approval) in any color desired. The Fabrication shop precision-cut the tread using a Flow I 4800 Integrated Flying Bridge water jet cutting machine.
Customers like options and being involved. We invite all of our customers to walk through the decision-making process with the people working on their aircraft.
"They can watch their interior go through teardown, sit in the seats, test the comfort, and be involved," explains Angie. "They appreciate being included at this level."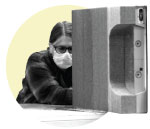 Relationships
"I can't do my job without them."
That's how vital Duncan Aviation's backshops are to Jarek Jones, Project Manager in Battle Creek. "I may be orchestrating the big picture plan, but when I seek out the help of the Team Leaders, Coordinators, and Customer Account Reps in our backshops, they take ownership of their work and do what is necessary."
After Jarek explains what he needs, they quickly accept his priorities and customers as their own.
"We are one company, no matter who is touching the aircraft. This machine doesn't run itself; Duncan Aviation team members make it work," he says.
Beyond the Hangar
"It's a daily relationship."
Customer support doesn't end when the aircraft leaves the hangar. Ed Reeve, Manager of the St. Louis Satellite, says the Satellites and Rapid Response teams are the faces of the company in the field. "We are on the front line with our customers every day, building relationships. We help to turn the first-time Duncan Aviation customer into a returning customer."
Satellites and Rapid Response teams are located across the United States to fill the gaps of service for operators when in-the-field service is necessary.
"We're a one-stop-shop with curbside service. We're all striving for the same goal," he says.
"I had no idea."
This is a common sentiment expressed by nearly every first-time customer or prospect visiting a Duncan Aviation MRO location. They had no idea we are capable of all of these backshop services.
Take note: The list of support "behind the scenes" is deep and wide. And they're all here to help the customer and meet project goals.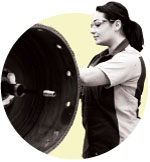 Duncan Aviation Backshops
APT
Autopilot/Flight Director Systems, Radar Systems, Nav/Com, ADF, FMS, DME, Transponders, ADI, HIS, Pitot Static, Gyros
Burn Testing
Cabinet, Finish, Interior Completions, Upholstery
Calibrations
Engine Line/Engine Test Cell
Engine Shop/Line
Engineering/Certifications/ODA
Fabrications
FBO
Generators
Hydraulic/Pneumatic/Electromechanical
Hydrostatic
Landing Gear/Wheels/Brakes
Life Rafts/Batteries
Machine Shop
NDT
Paint
Rapid Response (airframe/engine)
Rotable Sales
Satellites
Structures
SWAT
Tool Crib