«Spring 2021
Aircraft Sales and Acquisitions Pivot to Continue Supporting Customers
Duncan Aviation was founded by Donald Duncan in 1956 as a Beechcraft distributor, and the sale and acquisition of business aircraft has been at the heart of the business since day one.
Coming off a strong fourth quarter in 2019, January and February 2020 started off with a high level of activity. Then COVID-19 came into the picture, stalling that momentum. Duncan Aviation banned all but essential travel in order to comply with World Health Organization guidelines. Worldwide restrictions, travel bans, and uncertainty all contributed to the response by Duncan Aviation's Aircraft Sales and Acquisitions team who, backed by the knowledgeable and flexible resources throughout the Duncan Aviation enterprise, managed to continue to support clients.
Aircraft Relocation: International Response During A Pandemic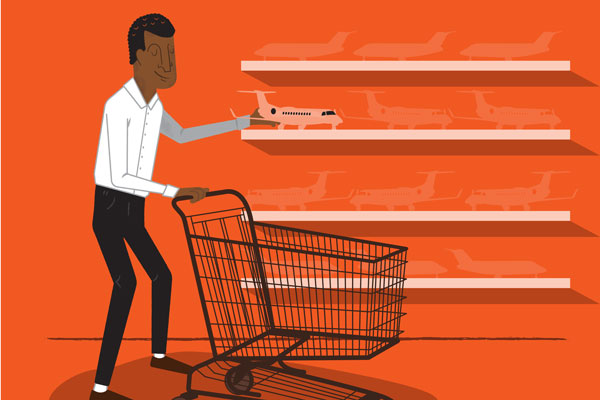 In the early days of the pandemic, an industry partner referred Tim Barber, a United Kingdom-based member of Duncan Aviation's Aircraft Sales and Acquisitions team, to a client to represent the sale of a Global Express XRS. Tim strategized that relocating the aircraft from Farnborough in the United Kingdom to the United States would improve his chances of closing a sale since 90% of serious inquiries were coming from North American buyers.
The Global Express XRS was brought to market on March 24 and relocated to Duncan Aviation's Provo, Utah, facility on April 2 to make the aircraft more accessible. From the time the aircraft was brought to market, it sold in just 69 days. This was the fourth Global Express XRS to sell in 2020, with others taking an average of 254 days to sell; this was an incredible feat considering the aircraft's market entry was at the height of what aircraft sales experts have referred to as The Great Pause. The remarkable result was only achieved through a very cooperative client, an equally pragmatic buyer, and an incomparable team at Duncan Aviation.
Doing What It Takes
Typically, Aircraft Sales Rep Dave Coleman visually reviews each aircraft he represents or acquires for clients and analyzes their records in-person.
"When COVID-19 struck, this became far more difficult for me," Dave says. "It was a lot tougher to get photographers out to take photos of the aircraft due to safety concerns of flying on the airlines. However, business aviation comes in many forms."
As an active pilot and aircraft owner himself, Dave took to the air in a Beechcraft Bonanza to continue to offer the same level of service. He even photographed aircraft himself in order to support his clients at the level he preferred.
"The reduction in traffic was significant," Dave says. "Air Traffic Control provided a lot of direct routings and airspace clearances I had never received before. It was so quiet I had to check to see if Air Traffic Control was still there!"
Expert Resources
Duncan Aviation's Aircraft Sales and Acquisitions team is composed of aircraft sales experts, each with an average of 35 years of aviation experience. Backed by in-house flight operations staff and 2,400+ airframe, engine, and avionics technical specialists located around the world, our representatives have first-hand access to the aircraft marketplace unmatched by any other broker or acquisition organization.
Aircraft Sales Market Research Analyst Rebekah Williams says that due to sales reps being located around the globe and the rapid changes that occurred in 2020, it was more important than ever to stay connected.
"We decided to set up frequent Aircraft Sales Zoom calls as a way to collaborate with and support one another," Rebekah says. "We will jump on, provide an update, talk about what we are seeing in the marketplace, talk through uncertainties, and determine how to leverage our vast resources for the benefit of our clients. The many difficulties brought on by 2020 have empowered our team to be more connected, collaborative, and strategic than ever before."
A Year to Remember
Duncan Aviation successfully closed 35 transactions in 2020.
Aircraft Sales Director Steve Gade says, "The bottom line is transactions have gotten amazingly complex. Now more than ever, tribal knowledge and immediate access to trusted resources are critical to serving the best interests of buyers and sellers."
The years of experience of the sales reps, the expert resources backing them, and overall knowledge of the business aviation industry proved to be extremely beneficial to a successful year for the company and our clients.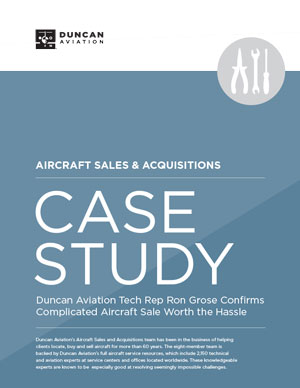 Case by Case
To learn more about the unique and personal ways that Duncan Aviation's Aircraft Sales and Acquisitions team supports it clients in the sale or acquisition of aircraft, read detailed case studies here: www.DuncanAviation.aero/resources/case-study.
View Aircraft for Sale Inventory: